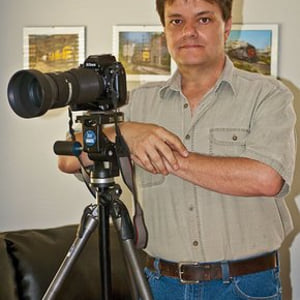 Andy Chabot
Biography
For the past 25 years I have had the opportunity to work with some of the biggest names in the industry. You can find my work in magazines, calendars, catalogs and almost any other type of printed media. I've had the benefit of working for some of the toughest Art Directors and Editors this industry has. Through this experience, I've developed the ability to create beautiful images of beautiful women.
My formal education in photography started at The Brooks Institute of Photography in Santa Barbara California. At Brooks I learned the technical side of creating images from one of the foremost photography schools in the world. It was through my education at Brooks that I was able to meet my mentor, Arny Freytag, probably the top "glamour" photographer in the industry and Playboy's #1 lensman. I give the majority of the educational credit for my ability to Arny. While working with the top photographer, at the top publication in the business, I was able to develop a working knowledge of the industry few will ever attain. Arny Freytag was not only a great example to work under, but he was the best teacher a person could ask for. While working for Arny, I was able to develop my own style that eventually started to land some assignments at Playboy.
Today, my images appear in magazines like Maxim, Stuff, Muscle and Fitness, Sport Magazine, many different Playboy Publications as well as online at cyber.playboy.com. Catalogs, advertisements, calendars and portfolios of models from all over the country.
I'm always looking for new faces for different projects. Be it a magazine submission, a advertisement for a tanning salon, or a local Doctor, or projects that could simply be described as "art" . If I have tagged you as a friend, I probably have a client that you will fit the bill for... If I haven't tagged you yet, I may have not found you!
I'm always looking for new faces. Depending on your look, I may TEST with you. The results from testing usually end up getting the models more work through exposure and quality images. If we get something that a client would like to publish, we BOTH get paid. I understand that some models make a sizable investment in themselves, I'd hope that you recognize the investment I've made in my profession.
So, if you think you have a look a client would like, want some images that will get you attention, or have a submission in mind, HIT ME UP. If I like what I see or think you have realistic goals, we will shoot... I won't shoot you just for shooting's sake...
So, don't be shy, hit me up!
Contact